Product name : Vacuum evaporation coating equipment

Product No. : VP002
Details:
Vacuum plating equipment/
Vacuum evaporation coating equipment
Vacuum evaporation coating equipment is an economic equipment for coating aluminium and chrome wire. Which has fast coating speed, bright color, and hard to contaminated.
The film has good compactness, high purity and uniform thickness characteristic.
This equipment is environmental friendly.
The film effect can be general coating bright film, matte (semi-matte and totally matte) film, wrinkle film, wiredrawing film, drip-drop and colorful film etc.
Suitable materials including ABS, PS, PC, PP, PVC, Nylon, metal, glass, ceramics, TPU.
Application:
auto-lamp; toys, plastic trim, TPU phone case, cosmetics packing, wine packing etc.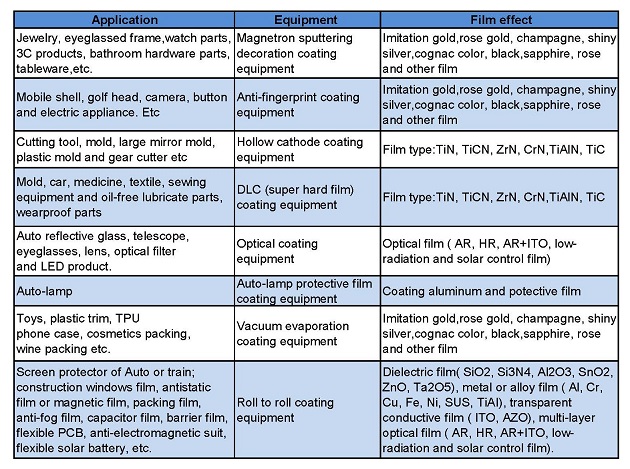 TCA Technology focus on surface treatment equipment. we can offer:
1. Pre treatment equipment for metal derusting, impurities remove, etc. such as blaster.
2. Electroplating equipment for
metal and

ABS coating.
3. Vacuum plating for
stainless steel, plastic, TPU, glass, ceramics, flexible materials decoration coating and funtion coating.
4. Spray coating equipment for
metal,plastic, glass,ceramics, wood coating.
5. Nano coating equipment for metal,
plastic, glass,ceramics,resin, wood coating, which could replace electroplaitng equipment, and totally environmetal friendly!

We offer various of turnkey solution for the decoration and funtion coating, which is widely used in many industry areas: such as auto parts, hardware, lights, toys, cutting tools, wearproof parts,mold,eyglassess, lens,plastic trim,packing, etc
Plz contact us for more equipment details. we can offer free design service according to your request.