Product name : Roll to roll coating equipment

Product No. : VP005
Details:
Roll to Roll coating equipment
is use for flexible materials surface coating kinds of dielectric film( SiO2, Si3N4, Al2O3, SnO2, ZnO, Ta2O5), metal or alloy film ( Al, Cr, Cu, Fe, Ni, SUS, TiAI), transparent conductive film ( ITO, AZO), multi-layer optical film ( AR, HR, AR+ITO, low-radiation and solar control film).
Application:
Screen protector of Auto or train; construction windows film, antistatic film or magnetic film, packing film, anti-fog film, capacitor film, barrier film, flexible PCB, anti-electromagnetic suit, flexible solar battery, etc.

If you need other vacuum plaitng equipment, plz select according to below list: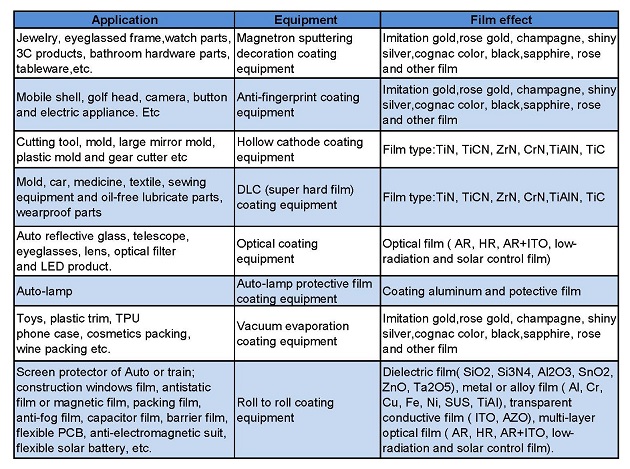 TCA Technology focus on surface treatment equipment. we can offer:
1. Pre treatment equipment for metal derusting, impurities remove, etc. such as blaster.
2. Electroplating equipment for metal and ABS coating.
3. Vacuum plating for stainless steel, plastic, TPU, glass, ceramics, flexible materials decoration coating and funtion coating.
4. Spray coating equipment for metal,plastic, glass,ceramics, wood coating.
5. Nano coating equipment for metal, plastic, glass,ceramics,resin, wood coating, which could replace electroplaitng equipment, and totally environmetal friendly!

We offer various of turnkey solution for the decoration and funtion coating, which is widely used in many industry areas: such as auto parts, hardware, lights, toys, cutting tools, wearproof parts,mold,eyglassess, lens,plastic trim,packing, etc

Plz contact us for more equipment details. we can offer free design service according to your request.